Marv's Auto Repair Shop in Sioux Falls, SD
About Marv's Body Shop in Sioux Falls
Our company has been providing excellent services to the community for over 50 years. We are one of the most reliable auto repair shops in the area. Our team of highly skilled technicians use only top-quality equipment, parts, and materials. We offer early morning and late evening key drops and provide courtesy transportation within the local area.
For the convenience of our customers, Marv's also offers free pick-up and delivery, as well as 24/7 towing services. We take the time to answer all of our clients to find out how we might help them best. Our facility also offers free estimates and a written lifetime warranty for all repairs.
Our company is proud to be recognized as a Ford Certified Collision Network Repair Center, General Motors Certified Collision Network Repair Center, Hyundai Certified Collision Repair Center, Kia Certified Collision Repair Center, and FCA Certified Collision Repair Center. No matter what the make or model of your vehicle is, Marv's Body Shop will take care of you.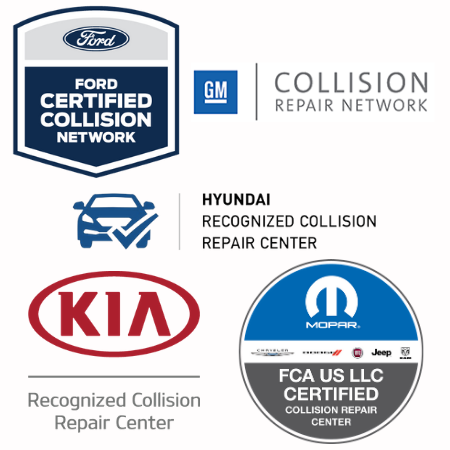 Inside the Shop
Proper repair of collision damage is critical to the safety and performance of your vehicle. Each vehicle is repaired according to factory specifications in our state-of-the-art collision repair facility.
Our company utilizes one Chief Titan and three Streamliner frame systems. These frame racks are capable of multiple pulls, which is critical in returning your vehicle to its original factory specifications. Certified technicians restore the integrity of the frame or unibody to manufacturer's specifications. We also make use of the Genesis computerized laser measuring system in all our sessions.
Sometimes mechanical components have been damaged or need to be removed in order to gain access to other damaged areas of your vehicle. Marv's Body Shop has all the necessary equipment to handle these types of repair.

When it comes to automobiles, you can judge a car by its cover! That's why at our shop, we use state-of-the-art painting technology like the Axalta Refinish Systems, which allows us to match your vehicle's finish.
Axalta's color retrieval system utilizes Acquire™ Quantum EFX spectrophotometer, which has digitized the body shop industry and improved color matching by removing subjective visual evaluations. This innovative product provides the first "color" and "sparkle" measurement technology, enabling superior color and appearance reproduction of factory paint finishes on automobiles. The system also packs novel color technology into a lighter and faster unit, which helps our shop create more accurate and faster color matches.
These refinish products – ranging from surface preparation to undercoats, basecoats, and high gloss clearcoats – are each formulated for our specific climate. It also allows the coating of different substrates such as metals, plastic, and the newest composite materials. In our case, we use the latest waterborne coatings designed to meet stringent environmental standards while providing better coverage than conventional products.
At Marv's, we believe that even the best products and tools require proper skills and knowledge. That is why we send our refinish technicians to Axalta training centers where they learn new techniques and are introduced to the latest products and technology.